"Customer loyalty is a mutual admiration society where your business delights customers and, in return, they become your most passionate and authentic ambassadors."
Introduction:
Picture this: A customer walks into your store (or clicks on your website) for the first time, buys something, and poof they're gone. Now imagine, instead, they keep coming back for more, and more, and more. That, my friends, is what we call "Customer Lifetime Value." It's like the golden goose that keeps laying eggs! It's all about turning a one-time buyer into your biggest fan.
So how can you roll out the red carpet and make your customers feel like rockstars?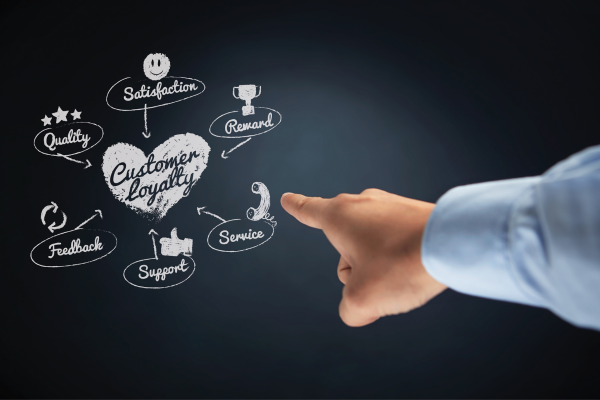 Here's the step-by-step guide:
Step 1: Roll Out The Welcome Mat
First impressions are everything! When someone buys from you for the first time, it's like they've just entered a party you're hosting. Welcome them with open arms! Send them a thank you email, a welcome package, or even a simple thank you note. Let them know you're stoked to have them on board!
Step 2: The Need for Speed – Be Quick To Help
Nobody likes to wait, especially when they need help. Whether it's a question about a product, or they need to return something, be as speedy as The Flash! When customers know they can count on you, they feel valued. And valued customers stick around.
Step 3: Keep The Good Times Rolling – Engage Regularly
Ever had a friend who only talks to you when they need something? No fun, right? Don't be that friend. Keep in touch with your customers. Send them fun updates, share a joke or wish them on holidays. Social media is also a great place to engage. It's like the town square where everyone hangs out.4. Build relationships with potential customers
Step 4: Make It Personal – Customize The Experience
Think of when someone remembers your name, or your favorite color. Feels good, doesn't it? That's what personalizing your customer's experience is like. Use their name when you talk to them. If you know their preferences, suggest products or services that match their taste. It's like giving them a high-five through the screen!
Step 5: The Perks of Being a Customer – Rewards and Loyalty Programs
Who doesn't love presents and surprises? Start a loyalty program or a rewards system. It's like throwing confetti every time they shop! They get points for every dollar spent, and those points can be traded for cool rewards.
Step 6: Ask and Listen – Take Their Feedback Seriously
Customers love it when you lend them your ears. Ask them for feedback and take it seriously. Sometimes they'll have brilliant ideas or helpful suggestions. Other times, they'll have concerns. In both cases, listen and act. It shows them that their voice matters.
Step 7: Make Them Heroes – Share Their Stories
People love stories, especially when they're the stars! Share your customer's stories. Did they achieve something cool using your product? Did they have a super positive experience? Shine the spotlight on them through testimonials, or feature them on your social media.
Step 8: Going Above and Beyond – Exceed Expectations
This is the cherry on top! Sometimes, do something extra that they weren't expecting. Maybe it's super speedy delivery, or a bonus item in their order. It's like when a magician pulls a rabbit
Step 9: Build a Tribe – Create a Community
Alright, folks, this one is BIG! Your customers are more than just wallets with legs. They are real people who love being part of something bigger. Start a Facebook group, a forum, or even a local meetup. Encourage your customers to connect with each other and share their experiences. When they feel like they're part of a family, they'll wear your brand like a badge of honor!
Step 10: Keep The Excitement Alive – Launch Events and Special Sales
Lastly, but definitely not the least, keep the excitement pumping! Host cool events, whether online or in person. Throw special sales on holidays, or heck, make up your own holiday! Let your customers know there's always something fun going on. Like a thrilling roller coaster ride, they'll want to jump on again and again!
The Golden Wrap-Up:
That's it! You've got your treasure map! Now it's time to set sail and turn those first-time buyers into loyal customers who adore your small business.
Remember, maximizing Customer Lifetime Value isn't a one-time trick. It's a magical journey. Like building a sandcastle, it takes time, effort, and a little creativity. But once it's built, oh boy, it's a sight to behold!
Don't just satisfy your customers – dazzle them, make them feel like kings and queens. Before you know it, you'll have a kingdom of raving fans, and your small business will be the crowning jewel.
>> CLICK TO BOOK an easy connection call and let's see how we can best help you in your small business.