"A satisfied customer is the best business strategy of all." – Michael LeBoeuf
Small Business Owners, Brace Yourselves: Here's The Hidden Goldmine of Customer Retention
As a small business owner, you know that acquiring new customers is essential for business growth. But what about retaining the ones you already have? Customer retention is just as important, if not more so, than customer acquisition. In this blog post, we'll explore why customer retention matters and how you can improve your retention strategies.
Why it's important:
Customer retention is the ability of a business to keep its existing customers. It's a critical metric for any business because it directly impacts revenue and profitability. Research shows that acquiring a new customer costs five times more than retaining an existing customer. Moreover, increasing customer retention by just 5% can increase profits by up to 95%.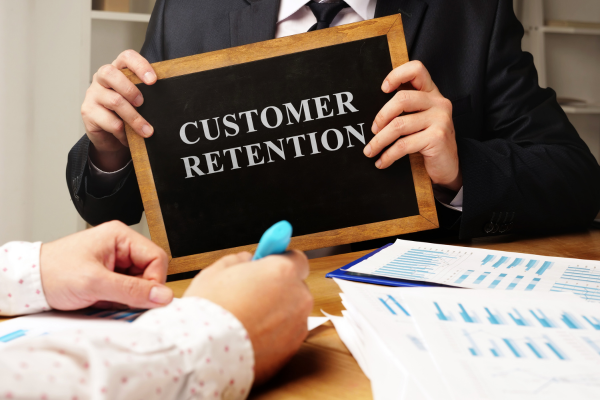 Here are some reasons why customer retention is so important:
1. It's Cost-Effective
As mentioned earlier, acquiring new customers is expensive. You need to spend money on advertising, marketing campaigns, and sales efforts to attract new customers. On the other hand, retaining existing customers is much cheaper. Your existing customers already know your brand, and you don't need to spend as much money to convince them to buy from you again.
2. It Builds Brand Loyalty
When you provide excellent customer service and deliver on your promises, your customers will be more likely to stick with you. Moreover, satisfied customers are more likely to recommend your brand to others, leading to more sales and revenue. Building brand loyalty takes time, but the payoff is worth it.
3. It Improves Customer Lifetime Value
Customer lifetime value (CLV) is the amount of money a customer is expected to spend with your brand over their lifetime. Retaining loyal customers is a great way to increase CLV because they are more likely to buy from you again and again.
Strategies for Improving Customer Retention
Now that we've established why customer retention is important let's look at some strategies you can use to improve it.
1. Provide Excellent Customer Service
Excellent customer service is one of the best ways to retain customers. When customers feel that you are listening to their needs and addressing their concerns, they are more likely to stay loyal. Make sure you are responsive to customer inquiries and complaints and that you are providing timely, accurate information.
2. Personalize Your Marketing Efforts
Personalization is the key to building strong relationships with your customers. Use data to understand your customers' preferences and interests, and tailor your marketing efforts accordingly. For example, you can use email marketing to send personalized messages and recommendations based on customers' past purchases.
3. Reward Loyalty
Rewarding loyal customers is a great way to show your appreciation and encourage them to keep coming back. You can offer discounts, exclusive content, and early access to new products to your loyal customers. Loyalty programs are also effective at incentivizing repeat purchases.
4. Continuously Improve Your Product or Service
Listening to customer feedback and continuously improving your product or service is critical for retaining customers. When customers see that you are making an effort to address their concerns and improve their experience, they are more likely to stay loyal.
Real-World Examples of Successful Customer Retention Strategies
Let's look at some real-world examples of companies that have successfully retained their customers.
1. Amazon
Amazon is a great example of a company that prioritizes customer retention. They offer free two-day shipping for Prime members, an easy-to-use website, and excellent customer service. Moreover, they use customer data to personalize their recommendations and marketing efforts.
2. Starbucks
Starbucks is another company that excels at retaining customers. They offer a rewards program that incentivizes repeat purchases, and they personalize their marketing efforts by sending personalized offers and recommendations to customers' smartphones.
3. Apple
Apple is known for its excellent customer service and product design. They continuously improve their products based on customer feedback, and they offer a sleek and easy-to-use interface that keeps customers coming back.
The Future of Customer Retention
As technology continues to evolve, customer retention strategies will need to evolve as well. Here are some potential future trends in customer retention:
1. Increased Use of Artificial Intelligence
Artificial intelligence (AI) has the potential to revolutionize customer retention by automating personalized marketing efforts and providing faster, more accurate customer service.
2. Greater Emphasis on Customer Experience
As customers become more discerning, companies will need to focus on providing an exceptional customer experience at every touchpoint.
3. More Personalization
Personalization will continue to be a critical component of customer retention. As companies gather more data on their customers' preferences and behaviors, they will be able to deliver even more personalized experiences.
Conclusion
Customer retention is essential for any business that wants to grow and thrive. By providing excellent customer service, personalizing your marketing efforts, rewarding loyalty, and continuously improving your product or service, you can retain your customers and increase profits. As technology continues to evolve, customer retention strategies will need to evolve as well, but the fundamentals of building strong relationships with your customers will remain the same.
Mighty Real CRM can help you with these customer retention strategies.
Book a Demo >> CLICK HERE to explore how we can help you.